New ships are being produced with advanced technologies in order to include LNG as a fuel source and to reduce emissions and operating costs. Let's take a look at the "world's first" marine vessels powered by LNG.
The global emission requirement is driving the maritime industry to use cleaner fuels. New ships are being produced with advanced technologies in order to include LNG as a fuel source and to reduce emissions and operating costs with new regulations and standards that must be met. As the demand for environmentally friendly ships increases, shipowners are investing heavily in green marine technologies by utilizing alternative fuel sources and developing new designs.
When LNG and MDO are compared; LNG energy content is almost twice that of MDO. Also in fuel cost, the average price of LNG is almost half that of MDO fuel. Global gas reserves are much larger than that of oil, and the costs of LNG fuel will be even lower compared to MDO. For these reasons, let's take a look at the "world's first" marine vessels powered by LNG.
1. World's First LNG Powered Container Ship 
TOTE's Marlin Class ship is the first LNG powered container ship in the world. It offers many environmental benefits. It will reduce sulfur dioxide (SOx) emissions by 98 %, particulate matter (PM) by 99 %, and nitrous oxide (NOx) emissions by 99 %. It is also powered by the world's first dual fuel slow speed engine (ME-GI) made by Doosan Engine. Depending on environmental considerations as well as relative price and availability, the ME-GI engine offers owners and operators the option to use HFO or natural gas.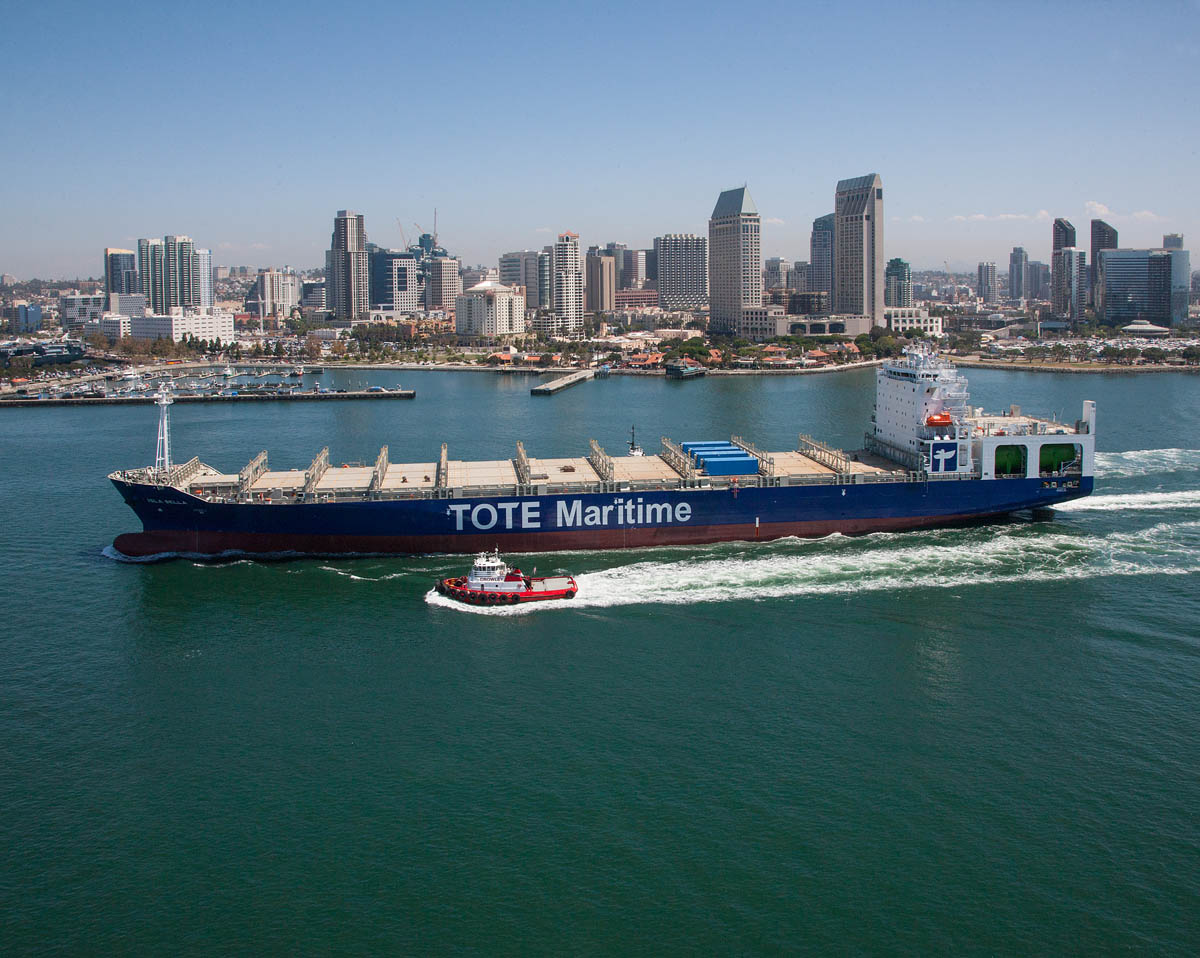 2. The World's First CNG Ship
ABS produced the world's first LNG carrier, the Methane Pioneer, and has since been a long-time leader in the safe handling and transportation of gas, responding to the evolving technology demands of the largest and most modern units now in service. He built the world's first ship and cargo system for the transport of compressed natural gas (CNG).
CNG vessels are used to transport moderate natural gas (30 to 500 mmscf) over medium distances (200 to 2,000 km). The CNG vessel was designed by China's CIMC Ocean Engineering Design and Research Institute and built at China's Qingdao Wuchuan Heavy Industry shipyard.
3. The World's First LNG Bunker Ship
NYK has partnered with Hanjin Heavy Industries & Construction Co. to provide the necessary support to LNG as the preferred marine fuel. Ltd. It is the world's first LNG bunkering ship built to provide LNG to LNG fueled fuels. The use of LNG virtually eliminates SOx and particulate matter (PM) emissions. and the operation of LNG fueled ships can result in reductions in nearly all SOx and PM emissions compared to the emissions of conventional heavy oil powered ships. The use of LNG can also reduce CO2 emissions by around 30% and NOx emissions by up to 80%.
4. Word's First LNG-Powered Harbor Tug
Drydocks World and Dubai Maritime City (DMC) will build the world's first LNG powered port tug. The tug will have dual engines that can run on both conventional MDO and LNG and will represent a major breakthrough that will decide the future of green technology. The harbor tug will be operated by Jurong Marine Services, a unit of Sembcorp Marine in Singapore. The new LNG-hybrid tug is the first of 12 tugs that Sembcorp Marine plans to design and build between now and 2025 to replace existing diesel-powered trailers.
5. The World's First Electric Propulsion Ferry
Electric propulsion has a promising future in the marine industry among other ship propulsion systems. Siemens has started the construction of the world's first electric ferry. The 80-meter-long ferry will be able to carry 120 cars and 360 passengers. The electric catamaran ferry is designed to have the least resistance in the water. Two thin aluminum bodies are used instead of steel to ensure that the steamer passes smoothly in the water.
The most important feature of the electric powered ferry will be that it will only take 10 minutes to charge during breaks. Shipping company Norled has been authorized to operate the route until 2025.
6. The World's First LNG Hybrid Barge
The LNG barge is equipped with 5 generators supplied by Zeppelin Power Systems but with zero sulfur oxide and soot particle emissions to produce a total power of 7.5 MW (50/60 Hz) in pure LNG. These generators are the first marine approved LNG Caterpillar engines to be delivered to customers.
The steel rails produced by Sumitomo Corporation are highly resistant to abrasion and surface defects and are the only 150 m long rail produced in the world. The structural limitations of ships used to export long rails require it to be cut and shipped in six components. The ship, with its groundbreaking new structure, makes it possible to transport long rails at their original length.
The total length of the ship is approximately 190 m and its total tonnage is 23,000 tons. Equipped with a 155 m warehouse and three cranes.
7. The World's First Floating Liquefied Natural Gas Platform
Prelude FLNG is the world's first floating liquefied natural gas platform and also the largest offshore facility ever built. The Prelude was built by Samsung Heavy Industries in South Korea for Royal Dutch Shell. It is 488 meters (1,601 ft) long, 74 meters (243 ft) wide and made of over 260,000 tons of steel. Prelude FLNG is Shell's first deployment of FLNG technology and will operate for approximately 25 years in a remote watershed approximately 475 kilometers northeast of Broome, Western Australia. FLNG will enable Shell to produce offshore natural gas, convert it to liquefied natural gas and then transfer it directly to ships for transport to customers.
8. The World's First Long Rail Transport Ship
Sumitomo Corporation manufactured the world's first long-rail transport vessel for the transport of 150 m steel rails manufactured by Nippon Steel & Sumitomo Metal Corporation ("NSSMC"), Total length 190 m, total tonnage 23,000 tons, 155 m warehouse and three equipped with winch. With its new structure, the ship makes it possible to transport long rails in their original lengths. Thus, in addition to reducing road maintenance by reducing resources in railway operations, it contributes to greater stability of the road.
9. The World's First Ethane Fuel, LEG Carrier
The ECO STAR 36K is the world's first ethylene Carrier with a "Svelte"-spring design developed by Hartmann Reederei of Leer. The first of its kind, the ship will have superstructures located in the bow. This leads to optimized weight distribution, reduced fuel consumption and emissions. The new "Svelte" bow design enables the ship to improve sea holding at higher transit speeds and improved fuel efficiency.
The ECO STAR 36K can run on HFO, MDO and kerosene as well as LNG and ethane as a world innovation. It can also use the boiling gas from its charge. The ship's autonomous gas fuel tanks are built for ethane and LNG and provide an operating range of approximately 10,000 nautical miles.
10. The World's First LNG Fired Drilling
ABS entered a joint development project (JDP) with South Korea's Daewoo Shipbuilding and Marine Engineering (DSME) to develop the industry's first LNG-fueled drill ship. The project is in the Gulf of Mexico as a key market for an LNG-fueled drill ship, where LNG as a marine fuel makes economic sense given the abundance of affordable shale gas resources in the US.
---
Related Articles