Following another challenging year that the industry has ever seen, 2022 has arrived with many unknowns but also some positive signs to be hopeful.
The balance of the dry cargo and container market expected to remain stable in 2022. Also, it expected that there may be an improvement in freight rates. The effects of the pandemic will decrease with the increase in vaccination.
The strength of the container trade in the global market believed to have a major impact on gear dry freight rates and all ship trade. Large cargo and gear bulk carriers have shifted to the container market. The reason is the high freight rates on container ships. Also, there has been much less competition from general cargo vessels for supra/convenient small bulk carrier routes. This balance of high demand and less supply has further increased the backhaul rates of gear trucks.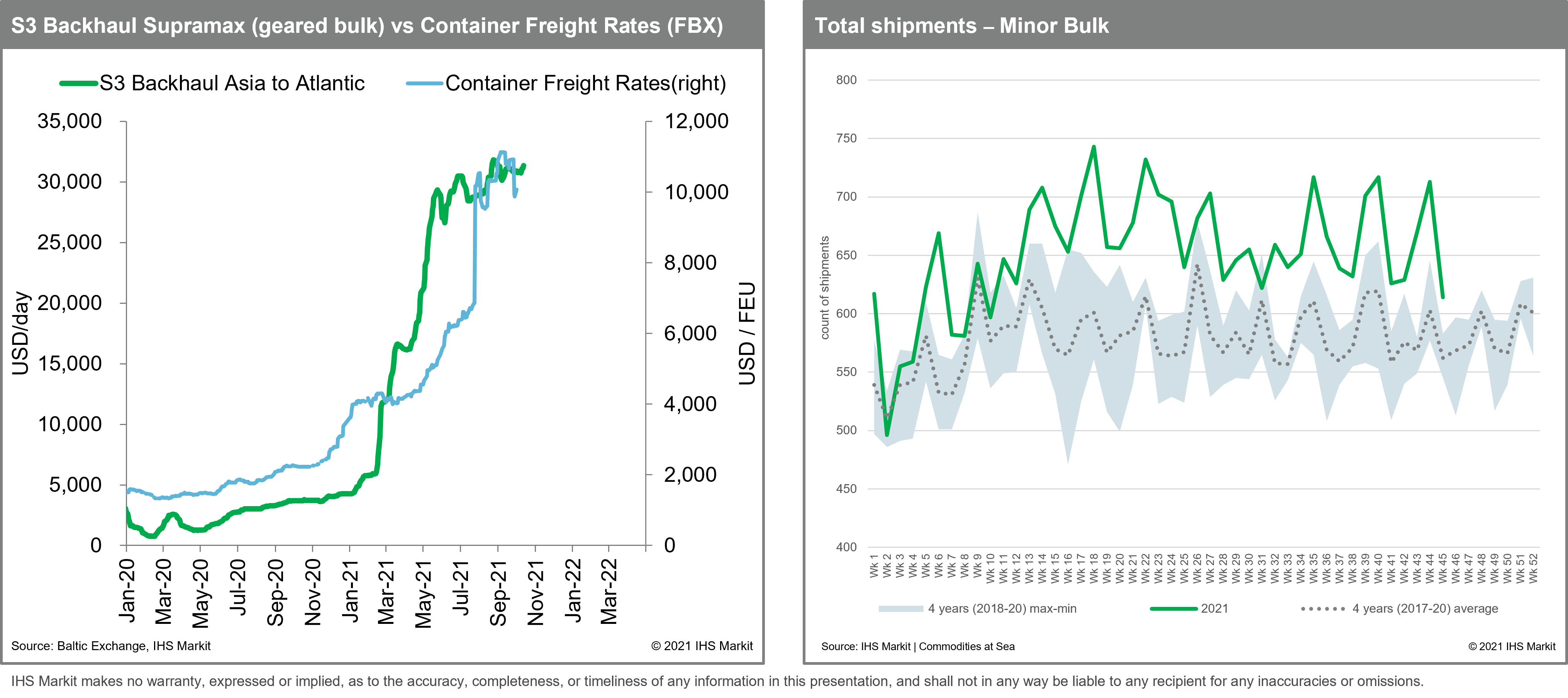 So, gear bulk carrier rates expected to supported as long as container rates remain high enough. They hold some of the general bulk carriers and open-hauled carriers in the container industry . Many experts believe container rates will remain high at least through the first half of 2022. Freighters will also remain in the container sector. They reduce their fleet supply and allows them to outperform other sized industries.
Global container export volume projected to increase by 4.8% in 2021. And continue to grow by around 2-3% in 2022. Reasons are high accumulation and gradual recovery. But, container freight rates expected to face correction in the coming years. Annual container fleet growth expected to increase from 3.0% in 2020 to 4.3% in 2021, 4.5% in 2022 and 7.5% in 2023.
Judging by the market expectations for 2022 alone, the container market demand and supply balance seems stable until mid-2022. It believed that container freight rates will drop by 30-40 percent. With the impact of COVID-19 mitigated, container freight levels will still be well above historic levels by 2022.
Decarbonization and Energy Transition
Shipping must operate in a more sustainable manner as prominent issues. The decarbonisation and post-pandemic recovery is another issues. They are providing further momentum with the ongoing IMO studies to reduce greenhouse gas emissions.
Adjustments continue to made to change the fuel mix and reduce the operational carbon. And environmental footprint of new technology and ship designs, alternative fuels. Transport for energy is not only a large-scale user but also a major carrier. So the industry will have to respond to lower demand for oil tankers and coal carriers and more.
Climate Adaptability and Endurance
Maritime transport infrastructure and services have come under severe pressure. As a result of the pandemic and the closure of the Suez Canal. Besides, there is climate change, extreme weather events, including floods, hurricanes and cyclones in recent years,
It causes frequent and intense interruptions in both coastal infrastructure and hinterland connections. With climate projections pointing to a global warming trajectory. It exceeds the targets agreed under the Paris Agreement. The shipping industry and governments should invest in shipping compliance and climate-tightness.
Seafarers Situation
"A lasting recovery will depend on the path taken by the pandemic. And will depend on easing the negative headwinds and a worldwide vaccine rollout,". said UNCTAD Secretary-General Rebeca Grynspan.
UNCTAD says the pandemic has exposed and magnified the challenges already present in the shipping industry. Particularly labor shortages and infrastructure needs. Lockdowns are raising concerns about the ongoing pandemic-induced crisis around crew changes. Borders closed. And the absence of international flights leaving hundreds of thousands of seafarers stranded at sea. they are unable to replaced or repatriated.
While the report calls for urgent attention from flag, port and labor supply states to end the crew change crisis. It insists that all states must become parties to relevant international legal instruments. The Maritime Labor Convention of 2006 urges governments and industry to continue. Working together and in collaboration with relevant international organizations to ease crew changes.
---
Related Article