Let's take a closer look at the biggest 20 ports in Turkey, based on their cargo handling capacity.
Bordered by four different seas, Turkey has a total coastline of 8,333 kilometers. Thus, it's no surprise that there are almost 200 ports and piers in total in Turkey.
27 of Turkish ports are classified as container ports. Let's take a closer to the top 20 ports in Turkey, based on their cargo handling capacity.
Mersin International Port (MIP)
Mersin International Port is located in Mersin, southern Turkey and operated by the Turkish State Railways (TCDD). Constructed during the 1950s as a major government project, it was the largest port in the country until lately. It's Turkey's main gateway to the Mediterranean Sea.
Asyaport
Asyaport is constructed as an international transit port (Main Port – Hub Port), according to its installation planning. The worksite infrastructure of the construction located at the Central district of the Province Tekirdağ, Barbaros Municipality, and the filling activities were initiated in April 2009. Asyaport design handling capacity is 2,5 million TEU per year.
Safiport Derince
Safi Derince International Port is located in the Marmara Region, to the north of the Gulf of Izmit. In addition to sea transport, it offers easy access to international and domestic destinations, via rail and truck transportation. The port services can accommodate a variety of cargo, including RoRo, project cargo, dry bulk, general cargo, liquid cargo, containers, and railway carriages.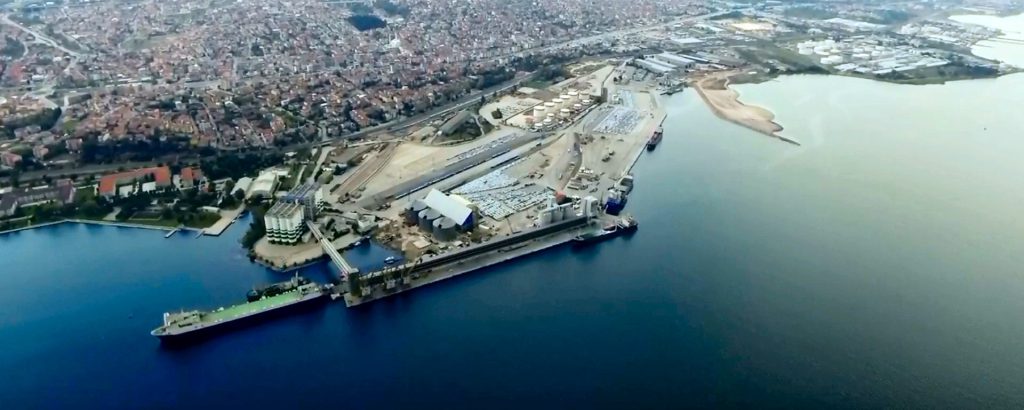 Marport
Located in Beylikdüzü, İstanbul, Marport began operating in 1996 as the Limar Kumport Terminal (currently known as Marport East Terminal). It has expanded with the Marport Main Terminal in 2001 and the Marport West Terminal incorporated into the structure in 2003. Marport's annual throughput capacity has reached 1,9 million TEU.
Kumport
Kumport Container Terminal is strategically located on the European side of Istanbul, 22 miles west of the Istanbul Strait. Kumport Terminal has excellent links to and from the hinterland. Kumport started terminal operations in 1994. It has now become directly connected to more than 140 locations on five continents.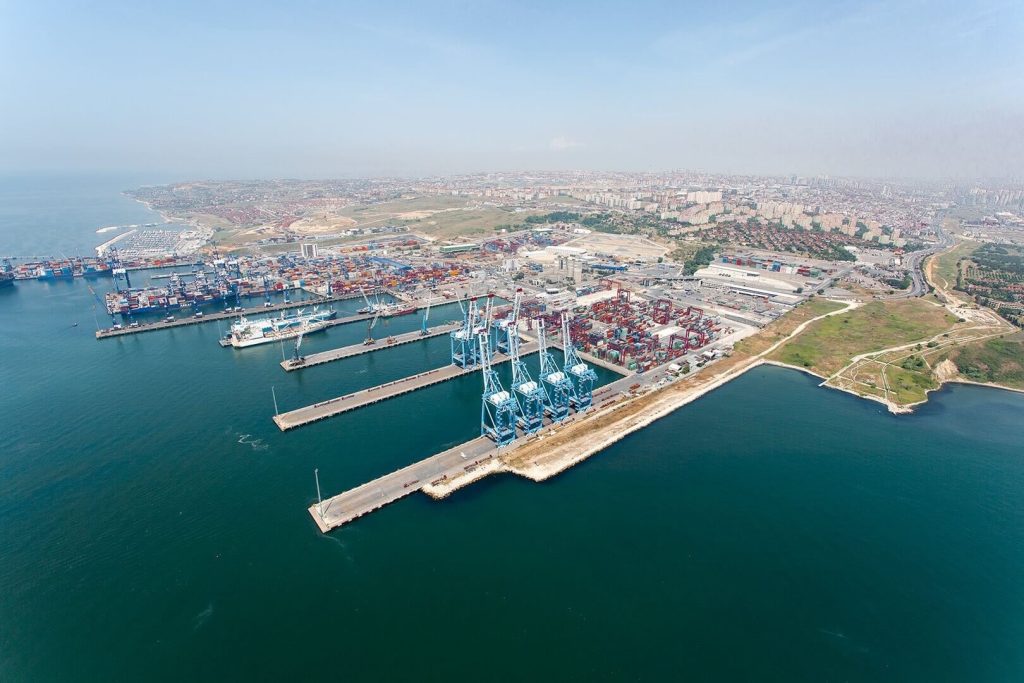 Socar Terminal (Petlim)
The first port in Turkey to be accessed by the ships with a capacity of 18.000 TEU, and to have the integrated dock structure of 700 meters, SOCAR Aliağa Terminal is the largest integrated terminal, having the initial handling capacity of 1.5 Million TEU containers, in Aegean Region.
Mardaş
One of Turkey's first private ports located in Beylikdüzü, İstanbul, Mardaş started its activities in 1991. In 2002, together with the increasing importance of maritime transport container operations, Mardaş became the container port and took its place among Turkey's top container ports also thanks to the location and its connection to the Mediterranean Sea, Aegean Sea, Marmara Sea, and the Black Sea.
DP World Yarımca
Located in Yarımca, Kocaeli, DP World Yarımca is a subsidiary of DP World of Dubai, the world's third-largest container terminal operator, operating 70 terminals in 31 countries, including Canada, the UK, France, and Spain. The terminal in Yarımca is equipped with super-post Panamax quay cranes. Electrified Rubber Tyred Gantry Cranes (E-RTG) are being used for yard handling.
Gemport
Gemport, Turkey's first private sector port, serves as an import and export gateway for many industrial areas, especially Bursa, where it is located. Its cargo handling capacity is 1,2 million TEU per year.
LimakPort İskenderun
Iskenderun port, which continues his activities under the name of Limak İskenderun Uluslararası Liman İşletmeciliği A.Ş. is one of the most important container terminals in the Eastern Mediterranean. Within the framework of related provisions of the Concession Agreement about the Transfer of Operational Rights, the Turkish State Railways Authority TCDD performs its duties and power related to the observance and auditing rights via TCDD İskenderun Control Directorate of Port Authorities.
Yılport Gebze
Located in Kocaeli, Turkey, Yılport Gebze's terminals offer multi-purpose services of the container, general, bulk, and liquid handling. The port is supported by inland container terminals, depots, warehouses, and logistics centers.
Port of İzmir
Also known as Port of Alsancak, this port is situated in the gulf of İzmir. The total land area is 635,000 square meters (6,840,000 sq ft). The total quay length is 3,386 meters (11,109 ft). Along with the Port of Haydarpaşa, which is also operated by the Turkish State Railways (TCDD), Port of İzmir is one of two state-operated ports on our list.
Evyapport
Evyapport, strategically located at the heart of the Marmara Industry, covers Istanbul Asian side, Kocaeli and Adapazarı hinterlands and also is well connected with major ports of the World. The port is 80 km east of Bosphorus and 10 km west of Izmit. Evyapport has a direct connection to D-100 motorway and TEM (Trans European Motorway). Evyapport also offers intermodal transportation options to its customers by direct connection to the main railway network. Another advantage of Evyapport is that it's the closest port to the capital city Ankara and sufficiency of convenient transportation for inland cities.
Ege Gübre
Ege Gübre Port Facilities is located in Aliağa, Izmir, south-east of Nemrut bay inner harbor. All kinds of cargo handling, storage, container filling / discharging, container repair / cleaning, and field stacking services are provided in the port.
Port Akdeniz
Port Akdeniz manages a high level of container traffic. This is on the rise each year, along with global container traffic. The port provides services such as loading/unloading, lashing/unlashing, twistlock/untwistlock, and hatch cover opening/closing for container vessels. The majority of its hinterland's market is accounted for by export products, with the main export product being marble due to its proximity to several major marble quarries.
Port of Haydarpaşa
Also known as the Port of Haidar Pasha, this port is a general cargo seaport, ro-ro, and container terminal, situated in Haydarpaşa, Istanbul, Turkey at the southern entrance to the Bosphorus. The port is operated by the Turkish State Railways (TCDD) and serves a hinterland which includes the country's most industrialized areas.
Nemport
Nemport, the first private container port of the Aegean Region, has been operating since 2010. At a distance of 55 km from the center of Izmir, Newport can accommodate 4 vessels at the same time with its 160.000 m² terminal area and 840 meters long quay.
Borusan Port
Borusan provides service to its customers in three different areas in its port with an annual handling capacity of 5,000,000 tons of general cargo, 450,000 TEU containers and 350,000 vehicles. One of the first ports in Turkey to achieve the Green/Eco Port Certificate, Borusan make significant contributions to export and import activities in the Southern Marmara, Northern Aegean and Western Anatolian regions with its berth of 1,773 meters located inside a total bonded and non-bonded terminal area of 465.000 m².
Trabzonport
One of the most important ports of the Black Sea, the largest inland sea of the world, Trabzonport connects Europe and Asia, continuing its modern silk road mission as the heart of maritime transport.
Çelebi Port of Bandırma
Having a direct link to İstanbul – Turkey's main business and industrial hub- and to the Southern Marmara and Aegean Regions, the Port of Bandırma enjoys being in a unique location at the southern Sea of Marmara. Port serves as the gateway of the Marmara Region for bulk cargo trade. Boasting the region's longest jetty (2973 m), the Port of Bandırma offers bulk cargo, general cargo, containers, liquid cargo, and ro-ro services.

SamsunPort
With a terminal area of 445,000 m² and a terminal capacity of 250,000 TEU, Samsunport is Turkey's largest port in the Black Sea region. It is the only port on the Black Sea with a railway connection. It has a large hinterland. With its railroad and highway connections, Samsun includes the cities of Sinop, Corum, Amasya, Ordu, Sivas, Erzincan, Yozgat, Tokat, Kastamonu, Ankara, Kirsehir, Kayseri, Nigde, Konya, and Malatya in its hinterland.