Let's take a look at the world's largest crane vessels that are used for offshore construction.
Crane vessels, also known as crane ships, are very large and powerful ocean-going vehicles. Since they are equipped with huge cranes to handle heavy loads, they are very convenient for offshore construction. Let's take a look at the 5 most popular crane ships in the world that are used for different kinds of offshore construction jobs.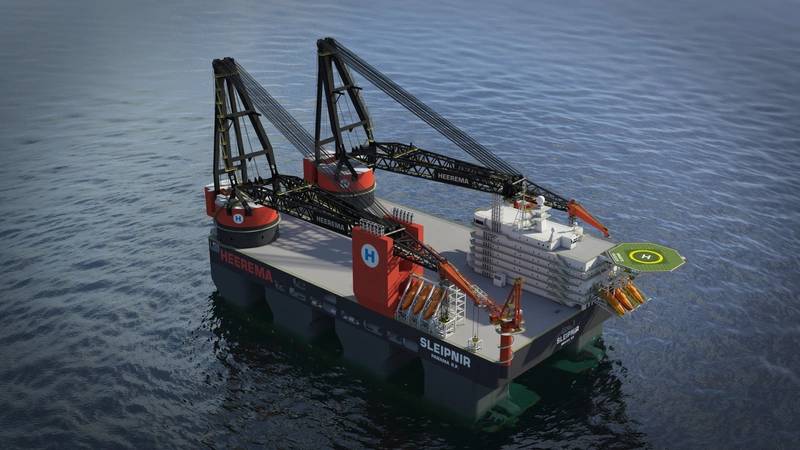 SSCV Sleipnir
After she passed the sea trials and crane load tests in 2019, SSCV Sleipnir has become the latest and the largest actor in the game. This semi-submersible crane vessel is named after the eight-legged mythological horse of Odin. The vessel is owned and operated by Heerema Marine Contractors. The world's first LNG powered construction vessel has two revolving cranes, each with a capacity of 10,000 tons. In the operational tests, the cranes were able to lift 110% of their capacity (11,000 tons each). When fully deploying all of its eight thrusters, SSCV Sleipnir is able to reach 12.2 knots, which equals to 22.6 km/h, a speed that makes the vessel even more appealing.
Sleipner was first assigned for the Leviathan Project for Noble Energy in September 2019 and completed a record lift of 15,300 tons. She then is contracted for the Tyra Future project for Maersk Oil. Among the future contracts for the vessel is Brae Bravo and Hollandse Kust Zuid.
---
SSCV Thialf
Until she lost its title to Sleipnir, SSCV Thialf was famous for being the largest crane vessel in the world. Built in 1985 by Mitsui Engineering & Shipbuilding under the name of DB-102, she was owned by McDermott International until 1997, when she was taken over by Heerema Marine Contractors and renamed Thialf.
Thialf's two cranes have a combined maximum lifting capacity of 14,200 tons. She's 201.6 meters in length, 144 meters in height, and has a beam of 88.4 meters. Equipped with a class III dynamic positioning system, SSCV Thialh has been used in many important construction jobs such as installing the Erasmus Bridge in 1995, the topsides on BP's Holstein, the heaviest single piece foundation piles for Chevron's Benguela Belize compliant tower. She also decommissioned Brent Spar in 1998.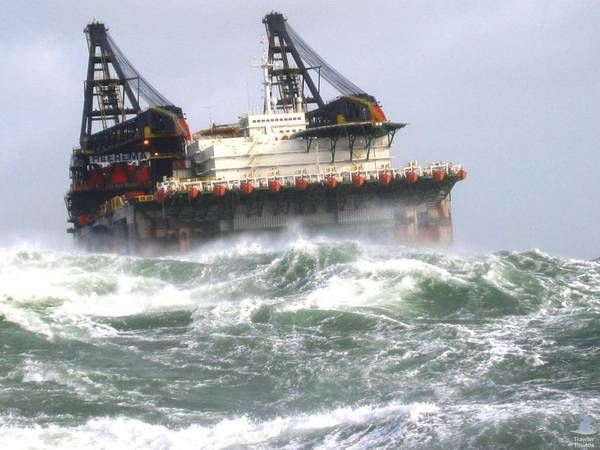 In 2000, SSCV Thialf set a world record of 11,883 tons by lifting Shell's Shearwater topsides, until the record was broken by Saipem 7000 in 2014.
---
Saipem 7000
The following owner of Thialf's record in 2014 with 12,150 tons during the Sabratha deck lifting, Saipem 7000 is now the third-largest semi-submersible crane vessel in the world with a total maximum lifting capacity of 14,000 tons through her two cranes. The vehicle is named after its owner, the oil and gas industry Saipem. Ordered in 1985 and launched the very next year, Saipem 7000 has been in service since 1988. She's 198 meters in length, 43.5 meters in height, and has a beam of 87 meters.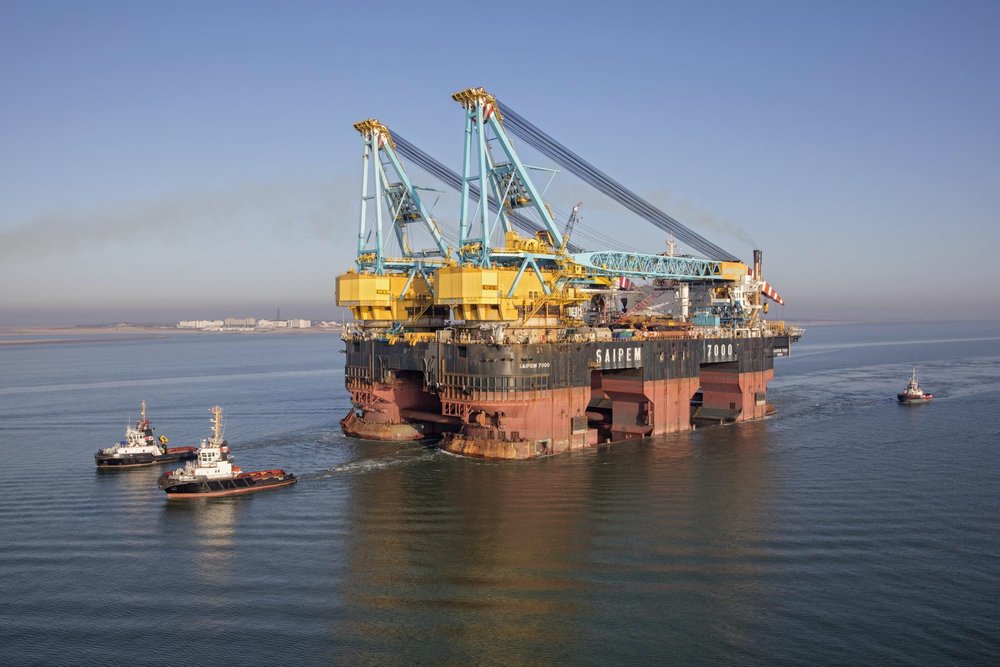 Saipem 7000's first job was for the Brazilian state oil company Petrobras. She was also contracted for projects such as the installment of the Jolliet Template, Togi Template, Veslefrikk platform, and four J-Lay systems and removal of the Esso Odin. She has worked in many more projects in the North Sea, Gulf of Mexico, the Canadian east coast and the west coast of Africa. Saipem 7000 laid the 24" pipeline for the Blue Stream project between Russia and Turkey up to the record depth of 2,150 meters in the Black Sea.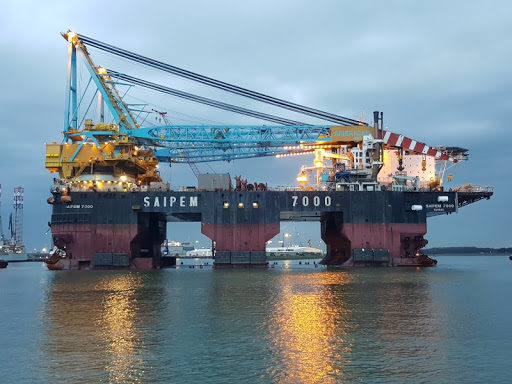 Although this record was broken in 2015, Saipem 7000 got back the record in 2014 by laying another 24" pipeline in 2,250 meters offshore Brazil.
---
Hyundai-10000
Built in 2015 and owned by Hyundai Heavy Industries, Hyundai 10000 has a maximum lifting capacity of 10,000 tons, as the name suggests, which makes her the largest shear-leg floating crane in the world. The vessel is 182 meters in length, 70 meters in width and 11 meters in depth.
In a very short period after its release, Hyundai-10000 was contracted for a total number of 19 projects in South Korea. She has carried out many engineering, procurement, supply, construction, and commissioning contracts for the offshore facilities all over the world since then.
---
Svanen
Built in 1991 and currently sailing under the flag of Bahamas, Svanen has a maximum lifting capacity of 8,700 tons. The vessel is owned by the Dutch maritime contracting company Van Oord, which specializes in dredging, land reclamation and constructing man-made islands. She is 102 meters in length, 72 meters in width and her current draught is 11 meters. Her sailing speed without wind is 7 knots.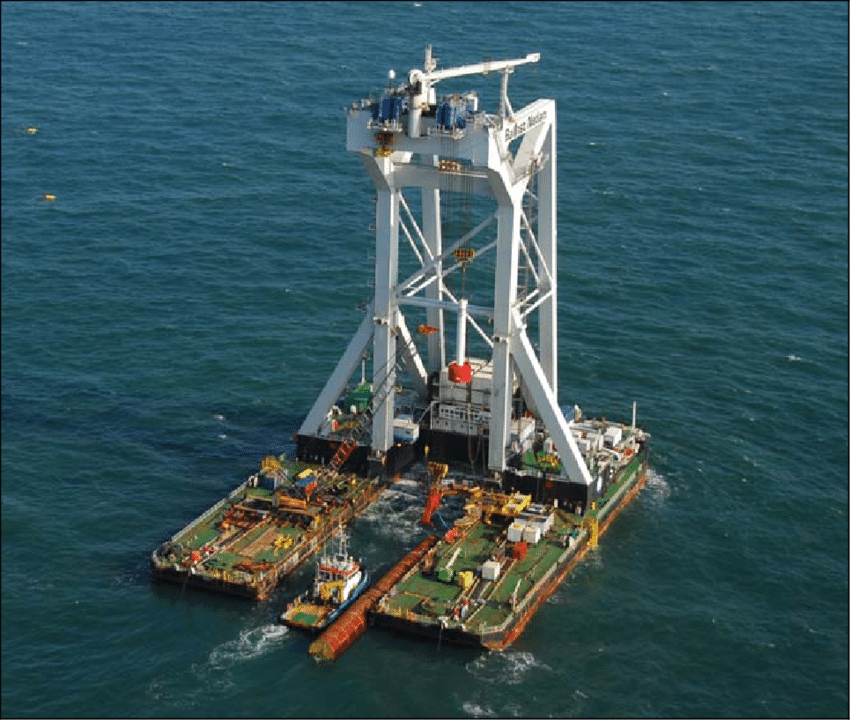 Svanen has been contracted in many projects and has installed almost 650 foundations throughout Europe. The Svanen has also installed the vast majority of monopiles in the Baltic Sea including the Anholt, Baltic 2 and Arkona projects.
---